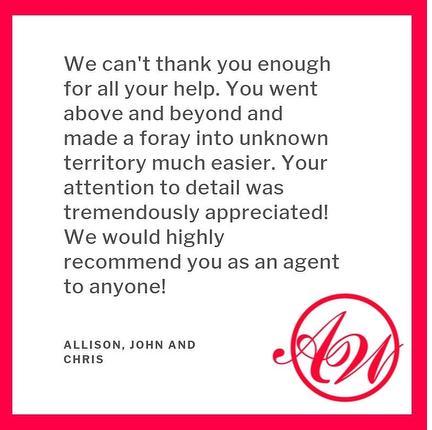 April 2023
Highly recommend Alisha! She goes above and beyond for her clients. She is honest, reliable, personable and family oriented. She will make sure that you are taken care of and satisfied, she genuinely cares and it shows. Great agent and person all the way through!
Bianca
August 2022
Alisha made herself available whenever we called and she came well prepared for meetings. She did her market research very well. We quickly placed our trust in Alisha since we were doing the sale from our home 3 hours away and she exceeded our expectations. Alisha answered our questions and reassured us when we had concerns. She was professional and courteous throughout. If you want someone knowledgeable, courteous and thorough to sell your home, we fully recommend Alisha.
Peter
October 2021
Alisha was absolutely amazing as always. I have already recommended her to a few people and will continue to do so. She was always nice and very quick to respond. 
Michael
July 2020
Knowledgeable, helpful, and always available to provide excellent advice.
Steve
August 2020
Alisha was professional, friendly, knowledgeable, non-judgmental, able to give advice, reassuring, and patient. I would recommend her to anyone who is looking for a great agent.
Debbie
August 2020
Worked hard for us.
Peter
June 2018
Alisha was very helpful and supportive throughout our entire process. She made herself available to accommodate some logistical issues which made the process smooth. Thank you so much again Alisha!
Rob
May 2018
I highly recommend working with Alisha whether you are buying or selling in Grey-Bruce. Alisha helped us find our dream starter home and was incredibly knowledgeable, professional, and skilled. We will definitely be working with Alisha again as we look to make future moves! I can't recommend her enough!
Erin & JL
December 21st 2017
Alisha is so hard working and dedicated to her clients! My Husband and I were so happy we chose to go with her in regards to selling our house! She knew exactly what to price it at and had amazing suggestions on staging our place!
Lynne & Trevor
Sept 11th 2017
What did you like/dislike about working with your real estate representative?
Alisha's promptness getting information to us and seeing that everything was resolved. 
Susan and Brad
May 3rd 2017
Helped a lot with negotiations. Very accomodating for showings and was quick to respond to inquiries. 
Marsha
Jan 25th 2017
She was very helpful finding out all the information we needed on various properties. Always quick to answer questions and show us through different properties.
Wes
January 2017
Alisha was very organized, followed up with answers to questions promptly and was a pleasure to deal with.
Ray and Jude
May 25th, 2016
Friendly, always replied to our inquiries promptly. She went above the call of duty!
Peter and Debbie
November 2016
Very honest, great communication, approachable, knowledgeable, trustworthy, friendly
Janice
June 2016
Alisha is amazing to work with. She has gone out of her way to help me in both selling and trying to find a new home. She is fun to be around and keeps me positive. 
Michelle
September 2015
She was great, very courteous and flexible, helped us with putting the offer on a home. 
Lisa and Jeremiah
June 2015
She was very kind and courteous, very patient in explaining the workings of the transaction. Extremely helpful in all details of the house sale. Highly recommend her to others.
Murray
May 4, 2015
My husband and I started the search for our first home. We were new 
to the area and did not have a Real Estate Agent. We were referred to Alisha, and hoped we had found someone who had our best interest in mind. I have heard many stories where people say they bought a home, and they were the ones who found the listing. I had made sure I was searching for houses as well. I definitely did not need to. Alisha emailed constantly with homes she thought might best suit what we were looking for. There were times we became overwhelmed with searching ourselves that we stopped. Leaving it up to our agent because she knew what to search for. Alisha was amazing for keeping up with all our needs as they changed and were all over the place, and putting up with not only us but both mine and my husbands family! (All our craziness) Any questions we had regarding any home Alisha had answers for us immediately. She would do research on properties for us and made sure we were fully satisfied as we searched. We were nervous to start, having a stranger find our home. That nervousness was gone after we first met Alisha. She was very professional and kind hearted. We now are proud to announce we have bought our FIRST home and our AGENT found this home for us. I will be recommending Alisha Wunderlich to anyone who is looking for a Real Estate Agent. Would not, could not have been more satisfied with all her hard work, and can not thank her enough for all she has done for us. We are so excited to start our new adventure and it would not have happened without her. - Alisha were so beyond happy with all you've done, you've been amazing :) few short weeks and we'll be HOME
Kayla and Jay
February 2015
Our buying experience with Alisha was wonderful! She was able to find us our dream home well within our budget. She was informative and walked us through the buying process. She even helped out with our application for the Grey County Homeownership Program. We qualified for the program and moved into our home in January 2015. Thank you, Alisha for all of your hard work!
Devon and Rita